The most unpredictable factor in farming is the weather. For this reason, the risks are very high as we plow in huge amounts of cash to grow a crop. In a roundabout way this is a form of gambling. So, my father would say "I don't need to go to Las Vegas to gamble, I gamble enough just being a farmer!"
Can we repeat the success of last year and grow another record breaking crop? The probability is low but "all things are possible!" Drew Learner from World Weather has become a well-known climatologist and was as key note speaker this year at Cropshere in Saskatoon this past January. He has suggested the conditions this year are looking like a dry year. He said the drought in Texas is likely to continue and dry conditions will extent into the Pacific Northwest and the Peace River regions.
Drew has been noting that an El Nino event is developing. El Nino is a weather phenomenon that affects weather on a global scale. The weather is impacts trade winds and the jet stream shift. For now, we will need to monitor the timing of the El Nino event and the strength of El Nino to see if it negatively impacts Canada and/or other major producing regions around the world.
Here is an image of a Topsoil Moisture report that confirms the dry in Texas the PNW.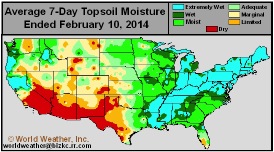 In the next image we can see how the dry the conditions are for Southern Saskatchewan and Alberta. NOBODY can really predict the future in weather. It is probable the hardest thing to forecast as there are so many variables that can change a forecast. But it is reasonable to suggest that conditions today look like world production of all crop will decline.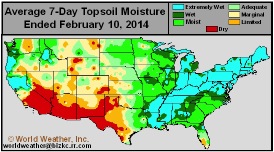 Current prices are depressed as we have just grown a record 80.1 million metric tonne crop in the prairies. I have been speaking to growers and for the most part they are going to stick to their rotations in order to manage weeds and diseases. The best practices are needed today as weeds are developing increased resistance to Type 2 herbicides. However, the lower grain prices are causing some growers to consider reducing inputs to compensate for the low prices being bid and forecasted for most crops. Nitrogen fertilizer, for example, has gone from $470/MT to $700/MT.
There is a saying that the cure for low prices is low prices. So, if the prices for major grains and oilseeds are low globally then it would be reasonable to say that there will likely be a reduction in production. How many millions of tonnes will not be produced if farmers cut fertilizer and crop inputs around the world? How much will and El Nino event negatively impact world grain, oilseed and pulse production? If you manage thing correctly then you might be able to capitalize on this the prospects of a price in the not too distant future.