By Greg Simpson, Pres/CEO, Simpson Seeds Inc.
Red hot prices experienced during the 2015/2016 crop year where caused by the drought reduced crop in Canada in 2015 and the crop failures of the Rabi harvest in India two year in a row. Growers responded by planting a record 4,360,000 acres this spring.  With normal production there would have been plenty of lentils but we had excessive rain during the growing season that resulted in flooding and loss of yield.  In response, markets bounced back in August/September but now the grower bid has cooled off considerably leaving many growers wondering why this sudden drop in prices to 28 cents/lbs.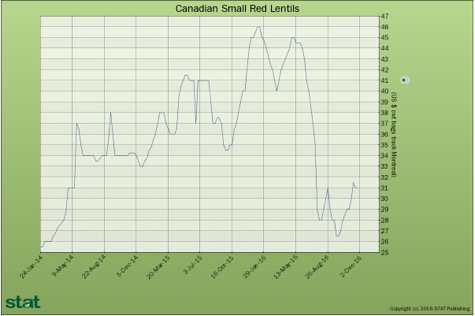 One good reason is the seasonality of demand as India will be harvesting a Rabi red lentil crop in February.  Therefore, the importers in India will slow their buying of Canadian origin red lentil in November/December as the transit time is about 60 days from farm gate to ports in India.  The assumption is the crop in India has recovered as monsoon rains helped to replenish soil moisture.  The main point is cheaper supplies grown in India will replace imports for a few months.
Secondly, Australia is harvesting a bumper crop of red lentils.  According to our broker in Australia, Mr. Peter Semmler, the harvest is 45%-50% complete in Victoria and 55%-60% complete in South Australia.  Yields are reported to be 3 to 4 metric tonnes per hectare which translates to 45 bushels to 60 bushels per acres. This is a surprize result as these yields are shattering everyone's expectations.
Australian growers planted a records 635,000 acres and where expecting to produce 450,000 MT.  Now, the estimates for this bumper crop range from 600,000 to 700,000 MT.
Prices have dropped dramatically in Australia with the harvest pressure testing the limits of grower storage and capacity at the terminals.  Clearly the market has shifted from a seller's market to a buyer's market.  Furthermore, Australia does have a competitive freight advantage given their close proximity to the Indian Subcontinent.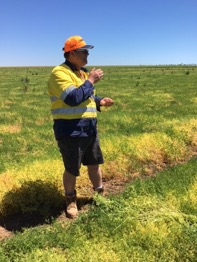 Picture of Mark Schilling in a field of lentils, Adelaide, Australia
Mark Shilling farms in the Adelaide region of Australia.  Mark has visited our farm in the past along with other growers who are learning more about our agronomic practices and the machinery we use to grow lentils.  I am sure it will be a very Merry Christmas for all those Aussy farmers who will be busy harvesting a bumper crop during the holiday season.
Wishing all you those who read my newsletter and Agrimart Express a healthy and prosperous 2017.