By Greg Simpson, Pres/CEO, Simpson Seeds Inc.
A bumper Kharif pulse harvest has caused farm gate prices in India to drop dramatically and have prompted the Narendra Modi government to consider protecting farmers from falling prices by imposing duties. Pulse prices have fallen as much as 20% below the minimum support price (MSP). In response, the government has stepped up procurement of pulses from local farmers for government sponsored feeding programs for the poor and building strategic inventory.
In the past, Canadian farmers enjoyed the benefits of government procurement to help deal with high internal prices caused by extremely dry and hot conditions one year ago.  This caused red lentil prices to reach record high prices. The prices where not sustainable and now the market is adjusting to reflect the return to increased global supply of pulses.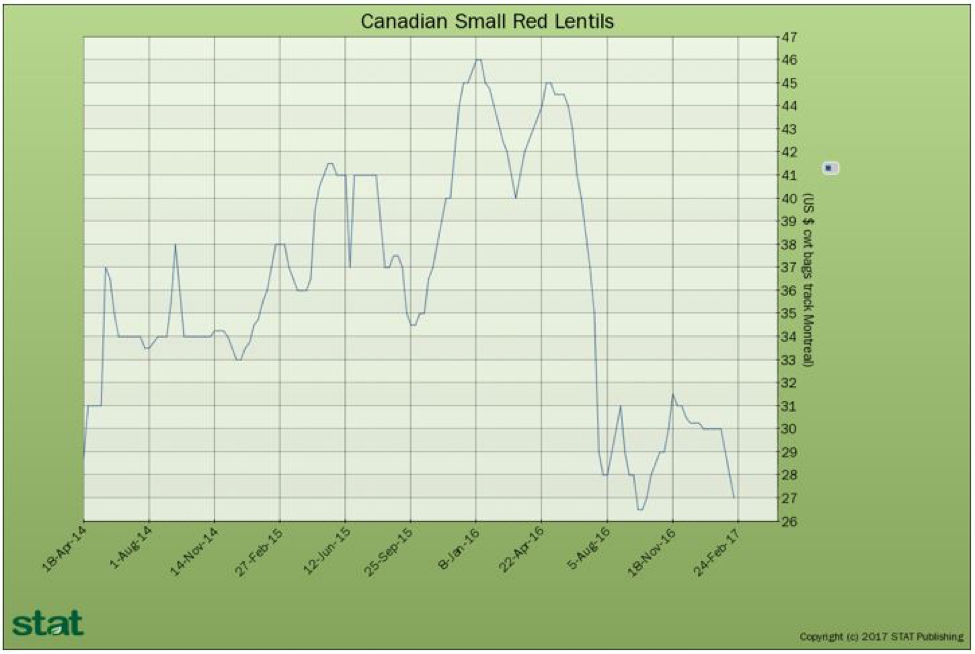 The chart above indicates the dealer price for cleaned and bagged red lentils
As the old saying goes, "the cure for high prices is high prices." The result was a substantial increase in seeded acres of pulses in Indian as growers there responded to the high prices.  Pulse production during 2016-17 crop year (July-June) is expected to increase by more than 35% compared to previous year's output. Rabi or winter pulses such as channa have been sown in 15.97 million hectares, which is 11.15% more than last year (2015-16) and 8.14% more than last five year's average.  In addition, the return of good monsoon rains helped to produce a bumper crop.
In response, the Indian government is contemplating a 5% duty to be applied to all imports. Duties where abolished back in 2006 to allow imports to flood into the country to keep pulse prices down for this price sensitive market.
The future prices will likely remain low for several months and will need a shift in the supply/demand. I think it would be reasonable to predict a reduction in pulse acres seeded in India as growers will shift to more profitable crops.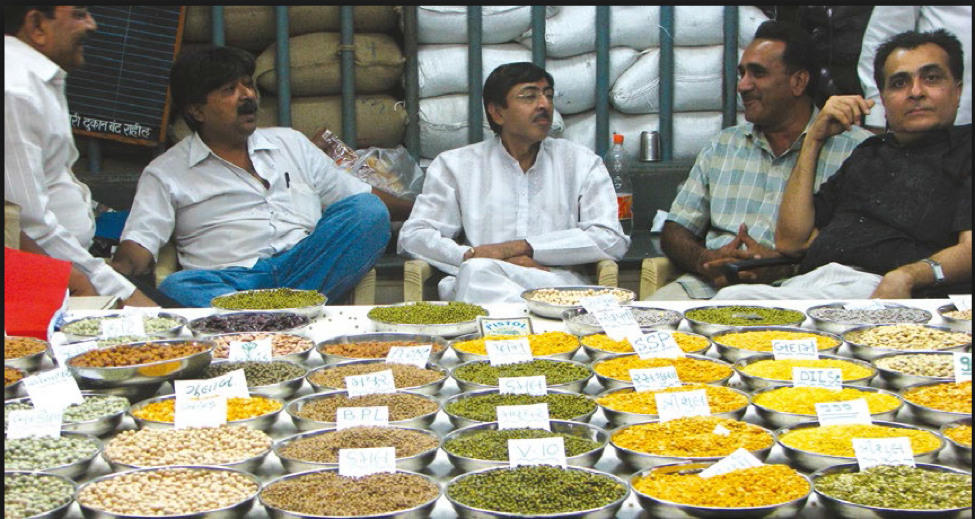 Typical market for pulses in India showing the wide range of pulses consumed.
Pakistan is another major importer of red lentils. Last year Pakistan import about 120,000 MT of Red Lentils from Canada but his was in direct response to the drought conditions that prevailed in the India Sub-Continent.  One of our major competitors, Australia, had a drought reduced crop last year which paved the way for the Canadian grower to become a major supplier.  In contrast, our normal exports are only 60,000 MT per year.  Obviously, the "tide has turned" with Australian growers producing a record crop of red lentils.
There has been a surge of containers arriving to the Port of Karachi from Australia. Canada has a few containers going to Karachi as well but the preference has always been for the extra small seeded varieties produced by Australia.
The situation in Pakistan will take a couple months to clear the oversupply of red lentils.
Grower bids will continue to go down as the pulse traders take their "foot of the gas pedal" and slow down exports.